Profile of Toshiyuki Sugawa
---
Name: Toshiyuki Sugawa
Birth: 6th May 1965 in Kyoto City.
Interests: Complex Analysis, especially, Teichmüller theory, quasiconformal mappings, univalent functions and potential theory.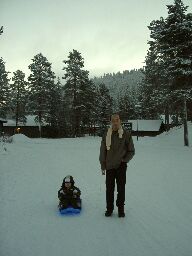 At Levi, one of popular ski areas in Lapland, 1 February 2001 with my son.
We had the so-called blue night there and a temperature of about -20 degree Celcius.

---

Sugawa's Home Page